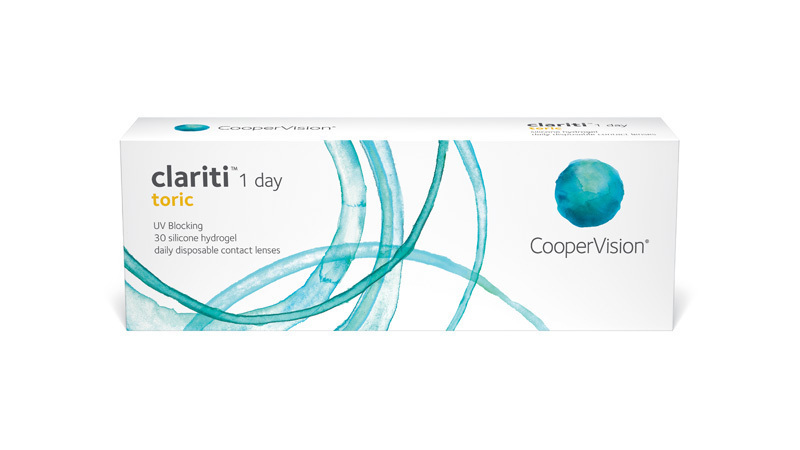 Product specs
Features
Vision correction for astigmatism
Silicone hydrogel material
Supports excellent all-day comfort
UVA and UVB protection1
Daily replacement lenses
Upgrade your astigmatic patients to SiHy. It's the right fit for comfort, sharp vision and ocular health. 
Clariti® 1 day toric allows your patients with astigmatism to enjoy the convenience of a daily disposable lens and the healthy advantage of silicone hydrogel (SiHy).
Winner of the Contact Lens Product of the Year at the 2012 Optician Awards2, clariti 1 day toric is a silicone hydrogel, daily disposable contact lens for astigmatism. The clariti 1 day lens allows 100% corneal oxygen consumption3. In fact, it provides more than the recommended amount of oxygen4 across the entire lens surface to help maintain ocular health.
And for your practice, you'll appreciate that clariti 1 day toric features the broadest power range of any daily disposable lens in the world. With clariti 1 day toric, you'll be able to fit more patients and expand what your practice has to offer.
WetLoc™ Technology Leads to Excellent All-Day Comfort
CooperVision clariti 1 day toric features WetLoc™ technology, a process that creates a hydrophilic lens with optimal wettability.
WetLoc is a non-surface treatment technology that manipulates the structure of hydrophobic silicone molecules so they become hydrophilic. This creates a lens that naturally attracts and binds water molecules, holding them tightly to the lens surface. WetLoc also provides continuous wettability throughout the wearing time. The result is a lens with high water content5 that provides excellent all-day comfort for your patients.
Talk to your astigmatic patients about the healthy advantages and daily convenience of clariti 1 day toric.
1. Warning: UV-absorbing contact lenses are not substitutes for protective UV-absorbing eyewear, such as UV-absorbing goggles or sunglasses, because they do not completely cover the eye and surrounding area. Patients should continue to use UV-absorbing eyewear as directed.
2. Awarded by Optician, a leading UK optometric publication, as voted for by a panel of recognized UK Eye Care Professionals.
3. Brennan N.A. Beyond Flux: Total Corneal Oxygen Consumption as an Index of Corneal Oxygenation During Contact Lens Wear. Investigative Ophthalmology & Visual Science. 2005; 82:467–472.
4. Holden B.A., Mertz GW. Critical oxygen levels to avoid corneal edema for daily and extended wear contact lenses. Investigative Ophthalmology & Visual Science. 1984; 25:1161.
5. Manufacturer's quoted core water content.
Product Details
Sphere power
Plano to -6.00D (0.25DS steps)
-6.50D to -9.00D (0.50DS steps)
+0.25D to +4.00D
(0.25DS steps)
Plano to -6.00D (0.25DS steps)
-6.50D to -9.00D (0.50DS steps)
Cylinder power
-0.75 -1.25 -1.75
-0.75 -1.25 -1.75
-2.25
Axis
10°,20°,
60°,70°,
80°,90°,
100°,110°,
120°,160°,
170°,180°
20°,70°,
90°,110°,
160°,180°
10°,20°,
90°,160°,
170°,180°
Orientation Mark
Single marker at 6 o' clock