Product specs
Features
The high Dk/t of silicone hydrogel, now as affordable as 1 day hydrogel
Delivers up to 3 times the Dk/t of 1 day hydrogel contact lenses2
Provides 100% of the oxygen the cornea needs3 for whiter4, brighter eyes for your patients
Supports excellent, all-day comfort
Built-in UV blocker1
The breathability of 1 day SiHy. Priced like 1 day hydrogel.
Offer your patients high breathability and surprising value.
With clariti® 1 day contact lenses, you can offer your myopic and hyperopic patients the benefits of 1 day silicone hydrogel (SiHy), while saving them from the high cost commonly associated with other 1 day SiHy lenses.
Now you can switch your frequent replacement SiHy patients to the convenience of the 1 day modality without sacrificing the breathability their eyes are used to…
…and upgrade your 1 day hydrogel patients to the most breathable soft contact lens material…
…for a price that's just as affordable as 1 day hydrogel lenses.
Offer comfort that lasts all day.
In addition to correcting their myopia or hyperopia, your patients will experience excellent comfort at insertion and throughout the day.
High water content (56%) combines with WetLoc™ technology to support excellent all-day comfort
Entire lens surface stays continuously moist throughout the day
Built-in moisture is evenly spread throughout the lens and mimics the moisture dispersion of naturally healthy eyes
The high breathability of 1 day SiHy, priced like 1 day hydrogel. Offer your patients the lens that offers more – clariti 1 day contact lenses from CooperVision.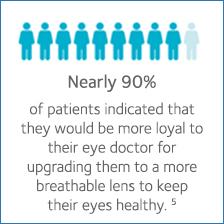 1.Warning: UV-absorbing contact lenses are not substitutes for protective UV-absorbing eyewear, such as UV-absorbing goggles or sunglasses, because they do not completely cover the eye and surrounding area. Patients should continue to use UV-absorbing eyewear as directed.
2. Based on manufacturers' published data. clariti® 1 day has Dk/t of 86. Compared to Proclear® 1 day (Dk/t 28), 1-DAY ACUVUE® MOIST (Dk/t 25.5), DAILIES® AquaComfort Plus® (Dk/t 26) and Biotrue® ONEday (Dk/t 42).
3. Brennan, NA. Beyond Flux: Total Corneal Oxygen Consumption as an Index of Corneal Oxygenation During Contact Lens Wear. Optom Vis Sci. 2005;82(6):467-472.
4. clariti® 1 day offers whiter eyes than 1-DAY ACUVUE® MOIST. Data on file, CooperVision.
5.Single-site, dispensing, bilateral wear, open label, 1-week, daily wear study. CooperVision, data on file.
Product Details
Sphere power
+ 8.00 to -10.00
(to +/- 6.00 in 0.25 steps)
(from +/- 6.00 in 0.50 steps)