Features
The high Dk/t of silicone hydrogel, now as affordable as 1 day hydrogel
Delivers up to 3 times the Dk/t of 1 day hydrogel contact lenses2
Provides 100% of the oxygen the cornea needs3 for whiter4, brighter eyes for your patients
Supports excellent, all-day comfort
Built-in UV blocker1
The world's first and only complete family of silicone hydrogel 1 day contact lenses
Offer the lens that offers more – clariti® 1 day
As you switch your patients from frequent replacement (FRP) lenses to 1 day lenses, you want them to remain in the same breathable material: silicone hydrogel (SiHy). But you may be concerned that the price of 1 day SiHy lenses puts the more breathable option out of reach, especially for value-conscious patients.
Your solution: clariti® 1 day contact lenses.
Offer the breathability of 1 day SiHy at a 1 day hydrogel price.
There's a lot for your patients to appreciate about clariti 1 day contact lenses. They provide:
100% of the oxygen their corneas need3
High water content (56%) combined with continuous moisture spread throughout the lens to support excellent all-day comfort
The affordability of 1 day hydrogel lenses
Now you can switch your FRP SiHy patients to the convenience of the 1 day modality without sacrificing the breathability their eyes are used to… and upgrade your 1 day hydrogel patients to the most breathable soft contact lens material.
Offer the 1 day lens with a complete family.
Other 1 day SiHy lenses are not available in a full range of designs that includes sphere, multifocal, and toric. The clariti 1 day family offers a 1 day silicone hydrogel lens option for nearly all of your patients regardless of their vision correction needs.
Sphere: Highly breathable so more of your patients can enjoy whiter4, brighter eyes
Toric: Excellent visual acuity and all-day comfort for your astigmatic patients
Multifocal: Excellent vision at all distances, and easy fitting (just 5 minutes more5 than with sphere lenses)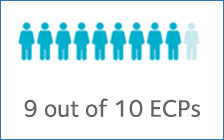 Agree that silicone hydrogel 1 day lenses provide the best benefits to patients.†
Believe their patients appreciate being upgraded to a highly breathable contact lens material without having to pay more.‡
Believe the clariti® 1 day comprehensive family of products enables them to fit more 1 day patients in silicone hydrogel.‡
For more breathability, more value and more vision correction options, offer your patients the lens that offers more – clariti 1 day contact lenses from CooperVision.
1. Warning: UV-absorbing contact lenses are not substitutes for protective UV-absorbing eyewear, such as UV-absorbing goggles or sunglasses, because they do not completely cover the eye and surrounding area. Patients should continue to use UV-absorbing eyewear as directed.
2. Based on manufacturers' published data. clariti® 1 day has Dk/t of 86. Compared to Proclear® 1 day (Dk/t 28), 1-DAY ACUVUE® MOIST (Dk/t 25.5), DAILIES® AquaComfort Plus® (Dk/t 26) and Biotrue® ONEday (Dk/t 42).
3. Brennan, NA. Beyond Flux: Total Corneal Oxygen Consumption as an Index of Corneal Oxygenation During Contact Lens Wear. Optom Vis Sci. 2005;82(6):467-472.
4. clariti® 1 day offers whiter eyes than 1-DAY ACUVUE® MOIST. Data on file, CooperVision.
5. Difference of the average total chair time between clariti® 1 day and clariti® 1 day multifocal. Data on file, CooperVision.
†Survey results of n=300 ECPs in the U.S., U.K. and Japan. Feb 2018.
‡Results based on 166 participating eye care professionals in a multinational online survey. 2016.
§Difference of the average total chair time between clariti® 1 day and clariti® 1 day multifocal. Data on file, CooperVision.